UoK Restored on List of Trusted Foreign Universities, Iraq's Ministry Confirms
UoK Restored on List of Trusted Foreign Universities, Iraq's Ministry of Higher Education and Scientific Research Confirms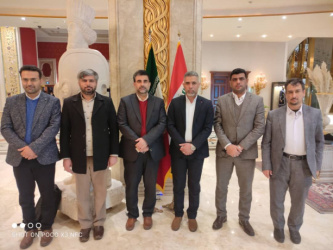 With the diligent efforts and successful negotiations conducted by the newly installed authorities at University of Kashan, facilitated by the endeavors of honored Cultural Attache of the Embassy of the Republic of Iraq in Iran, University of Kashan is added, once more, to the list of academic institutes in Iran which will host Iraqi students, mainly on graduate and post-graduate levels, for the upcoming academic year. Unfortunately, it has been almost 7 years since University of Kashan was removed from the list of authorized and trusted foreign institutes published annually by the Ministry of Higher Education and Scientific Research, Iraq.
Dr. Alireza Javadi, head of International Scientific Cooperation Office at University of Kashan, hopes that the success to restore University of Kashan as a member on this list will bring new opportunities to both parties and will include student admissions and academic exchanges.
Conducting bilateral and co-authored research projects on various topics are among the priorities of University of Kashan in the coming months, informs Dr. Javadi.
There are currently 45 Iranian institutes on the list of Trusted Foreign Universities, published by Ministry of Higher Education and Scientific Research, Republic of Iraq for the academic year 2022-2023. Below is the list published for this year: