Dr. Masoud Salavati Introduced as the Most Prolific Researcher of Iran
Dr. Masoud Salavati, faculty member of Nanoscience and Nanotechnology Research Center of University of Kashan, was introduced as the most prolific Iranian researcher of 2016, asserted Dr. Majid Monemzadeh, deputy of research and technology of University of Kashan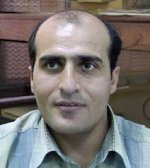 Dr. Masoud Salavati, faculty member of Nanoscience and Nanotechnology Research Center of University of Kashan, was introduced as the most prolific Iranian researcher of 2016, asserted Dr. Majid Monemzadeh, deputy of research and technology of University of Kashan
Based on an announcement by Islamic World Scientific Citation Center, University of Kashan, by supporting 846 research projects, achieved the 4th rank among comprehensive universities of Ministry of Science, Research, and Technology following University of Tehran, Tarbiat Modares University, and Ferdowsi University of Mashhad.
According to Dr. Jafar Mehrdad, founder of Islamic World Scientific Citation Center, Iran has produced 37957 documents in 2015 and the number of production cannot be stated conclusively for 2016, therefore, Iran is among top 20 countries that has impressive scientific production in 2015.
Iranian researchers has cooperated with United States, Canada, Malaysia, and England in production of some of 45395 scientific documents registered in Scopus in 2016; these countries have collaborated on 2384, 1019, 928, and 904 scientific documents with Iranian researchers respectively, added Dr. Mehrdad.
In this Citation Center, Azad University gained the 1st rank in scientific production among Iranian universities. University of Tehran by producing 3761, Tehran Medical Science University with 3669, Amir Kabir University with 2046, and Tarbiat Moderas with 2025 documents gained 2nd to 5th rank in this ranking, respectively.